FlightAware.com Announces Worldwide Coverage for Business Aviation Flight Tracking
---
2012年 10月 30日 (星期二) 08:00
Last updated 4 years ago.
---
ORLANDO AND HOUSTON (October 30, 2012) – FlightAware announced at NBAA 2012 the availability of FlightAware Global, a worldwide live flight tracking web service for business aviation operators.
FlightAware Global is an enterprise flight tracking web-based service for aircraft operators that combines FlightAware's industry-leading web interface with dozens of international data sources for seamless flight tracking in over forty countries across North America, Europe, and Australia. Worldwide data coverage is available for aircraft with data-link coverage from all of the industry's largest data-link providers, ARINC Direct, Honeywell Global Data Center (GDC), Satcom Direct, Spidertracks, and UVdatalink.
"Every year since FlightAware was founded in 2005, aircraft operators have approached us at the annual NBAA convention and told us that they wanted global flight tracking coverage," FlightAware CEO Daniel Baker, explained. "Today, we're proud to announce that we're extending our flight tracking across the world."
FlightAware Global services include:

Live flight tracking and status with real-time maps with zoom/pan and Google Earth


Mobile apps (iPhone, iPad, Android, Windows Phone 7, Windows 8, BlackBerry, PlayBook, Symbian)


Flight alerts, including pre-arrival notifications, via email or text message


Flight radar track log with graphs including time, latitude, longitude, speed, heading


Language detection and selection for native use in over a dozen languages including English, French, German, Spanish, Dutch, Italian, and Portuguese
PRICING

FlightAware continually revolutionizes both the technology and cost structures of the industry with very low, no-contract prices. Pricing starts at only USD$70 which can be billed monthly via credit card. In addition to the USD ($), pricing and billing is also available for non-US customers in British Pound Sterling (£), Euro (€), or Australian Dollar ($).
---
---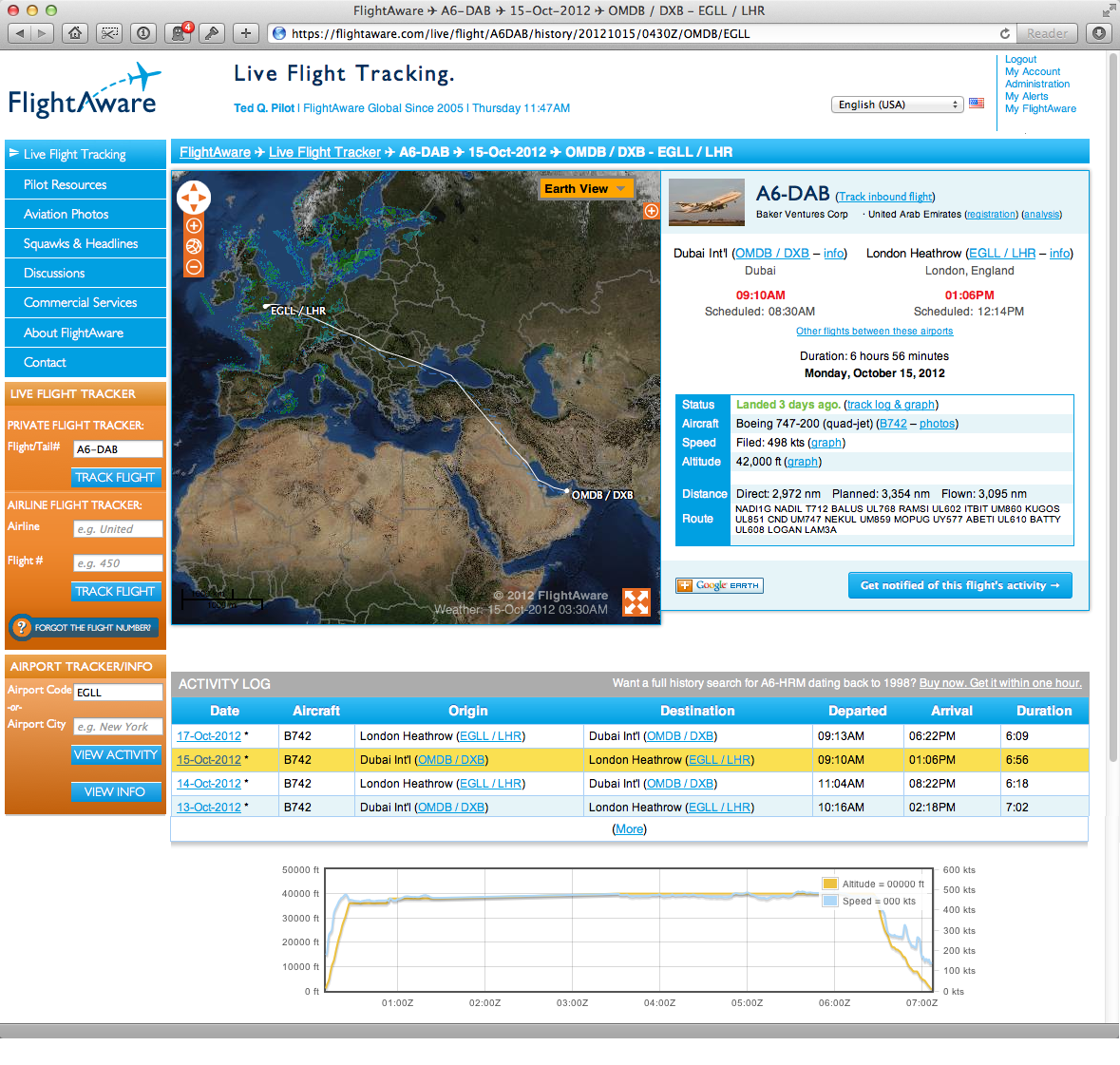 ABOUT FLIGHTAWARE

FlightAware (flightaware.com) is the largest flight tracking, flight data, and flight planning company in the world. FlightAware was the first company to offer free flight tracking services for both private and commercial aircraft in the United States, Canada, and Australia. FlightAware provides flight tracking, flight data, and flight planning services in over forty countries to over three million people each month. Founded in 2005, FlightAware is privately held and has offices in Houston and New York.